Claire, la Scandaleuse / Claire Castel: Scandalous Girl / Скандалистка Клер (с русским переводом) (Hervé Bodilis, Marc Dorcel) [2014 г., Feature, DVDRip] (Anissa Kate, Anna Polina, Ash Hollywood, Claire Castel, Henessy, Lola Reve) [rus]
Год производства
: 2014 г.
Страна
: France
Жанр
: Feature
Продолжительность
: 01:41:12
Язык
:
РусскийПеревод
:
Профессиональный закадровыйРежиссер
: Hervé Bodilis
Студия
: Marc Dorcel
В ролях
: Henessy, Ash Hollywood, Anna Polina, Claire Castel, Anissa Kate, Lola Reve, Ava Courcelles, Math, James Brossman, Yanick Shaft, Renato, JPX, Mike Angelo, Rico Simmons
Описание
: Marc Dorcel announced that it is releasing Dec. 12 "Scandalous Girl." The new production marks provocative European starlet Claire Castel s comeback.
In her return performance, Castel s character is celebrating her birthday. Hervé Bodilis, Marc Dorcel s resident director, orchestrates the party and invites adult actresses like Anna Polina, Lola Rêve, Anissa Kate, Ash Hollywood and others.
Для того, чтобы превратить это событие в действительно особенное мероприятие, молодая распутница, известная своей скандальной сексуальностью, выбрала самую соответствующую тематику – похоть. После отправки приглашений ее самым горячим, самым красивым подругам Клер все еще задается вопросом, какие дерзкие извращения будут иметь место в этой роскошной парижской квартире сегодня вечером…
Internet Adult Film Database (IAFD)Благодарность
:
M_ron
: за видео
Качество видео
: DVDRip
Формат видео
: MKV
Видео кодек
: DivX
Аудио кодек
: AC3
Видео
: 720x404 25fps 1488kbps
Аудио
: AC3 48000Hz stereo 192Kbps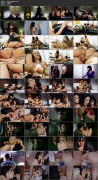 Claire, la Scandaleuse / Claire Castel: Scandalous Girl / Скандалистка Клер (с русским переводом) (Hervé Bodilis, Marc Dorcel) [2014 г., Feature, DVDRip] (Anissa Kate, Anna Polina, Ash Hollywood, Claire Castel, Henessy, Lola Reve) [rus]
Сидов:
|
Добавлено: 18-09-2018, 08:06
В ролях:
Henessy
,
Ash Hollywood
,
Anna Polina
,
Claire Castel
,
Anissa Kate
,
Lola Reve
,
Ava Courcelles
,
Math
,
James Brossman
,
Yanick Shaft
,
Renato
,
JPX
,
Mike Angelo
,
Rico Simmons